event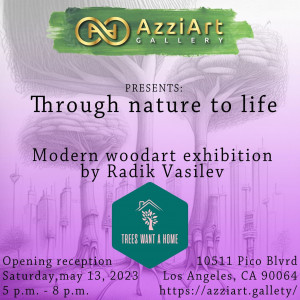 Modern woodart exhibition by Radik Vasilev, presented by Aziza Azizova. Through nature to life.Opening reception date:Saturday 13, 2023 from 5:00 pm to 8:00 pm.10511 w Pico Blvd, Los Angeles, Californ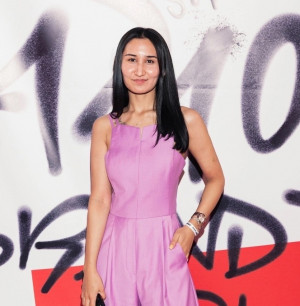 Kamila
May 09, 2023 10:37
event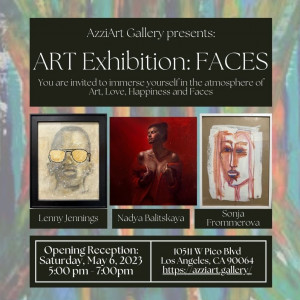 I invite you to immerse yourself in the atmosphere of Art , Love , Happiness and Faces.ART exhibition - FACESDate and time:Opening reception Saturday, May 6, 2023 from 5:00 pm to 7:00 pm. 10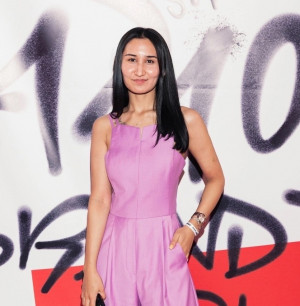 Kamila
May 01, 2023 05:31
event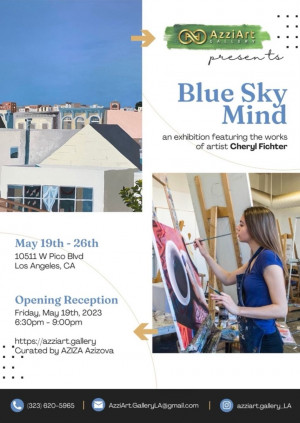 AzziArt Gallery presentsBlue Sky Mind Art exhibition featuring the works of an artist Cheryl Fichter.May 19 - May 26, 2023.Opening reception: Friday, May 19, 2023 6.30 pm - 9.00 pm.Regi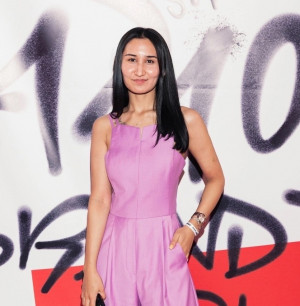 Kamila
Apr 18, 2023 08:31
event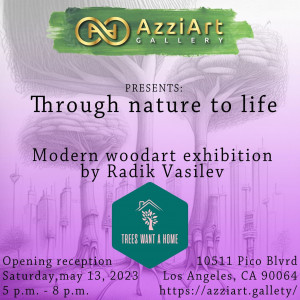 Modern woodart exhibition by Radik Vasilev, presented by Aziza Azizova. Through nature to life.Opening reception date:Saturday 13, 2023 from 5:00 pm to 8:00 pm.10511 w Pico Blvd, Los Angeles, Californ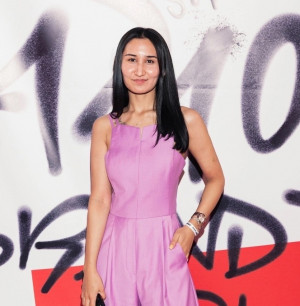 Kamila
May 09, 2023 10:37
event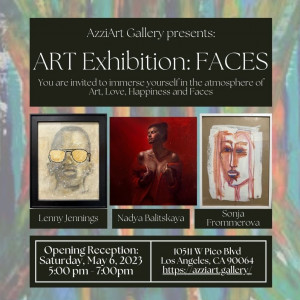 I invite you to immerse yourself in the atmosphere of Art , Love , Happiness and Faces.ART exhibition - FACESDate and time:Opening reception Saturday, May 6, 2023 from 5:00 pm to 7:00 pm. 10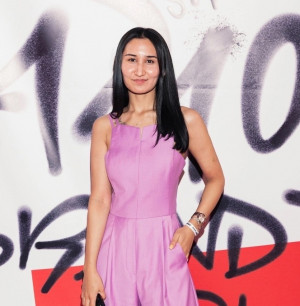 Kamila
May 01, 2023 05:31
event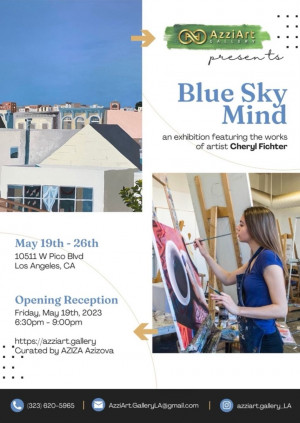 AzziArt Gallery presentsBlue Sky Mind Art exhibition featuring the works of an artist Cheryl Fichter.May 19 - May 26, 2023.Opening reception: Friday, May 19, 2023 6.30 pm - 9.00 pm.Regi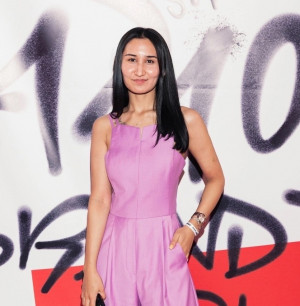 Kamila
Apr 18, 2023 08:31
About AzziArt gallery LA
Aziza Azizova started painting in March 2019. She is a self-taught artist. In that short time, her work has been on display at Marina del Rey, Silver Lake, Forest and Ocean Gallery in Laguna Beach, California, Azzi Art Gallery LA, California. Currently, her collection of acrylic and oil on canvas painting, has more than 350 works, almost half of them have been sold. Aziza has more then 100 art collectors of her art work.
Her Art collectors:
Peter and Jane Bersin ( 3 pic),
Mitzie and Michael Parker,
Jose Arcos, President Global "Mister Mail" (4 pic),
Lisa Morroco, American actress, Vice-Chair of Westside Neighborhood Council,
Jean L. Tardy-Vallernaud, CCC Arts Council, Art and Wealth Consultant,
Laurie Gilbert (6 pic),
Joshua Goldberg (4 pic),
Michael D.Lowenstam (2 pic),
Louanne Kennedy (2 pic),
Michael Heumann, Art attorney, Art collector,
Michael Carlin, author and Best Documentary Film Director,
Mary Williams, Realtor, Coldwell Banker Realty,
Jamie Millman, Arts Advocate,
Nancy Wood, President and CEO CCCC,
Cameron Wroblewski (2 pic),
Donna and Daniella Scaffidi, Law firm (2 pic)
Mary Brown,
Lynda Kaiser,
Agnes Penot, Art appraiser, assistant Galery 19C,
Danielle Yu, actress,
Aristotle Poganakis
Deena Goodman,
Bobbi Brown McRae,
Queen Angel, singer,
Paulina Michaels, producer,actress, Mark Fahrner, Jacklin Allen, Joanna Sels, Carlton Walker, designer, Boris Borats, Pasha Rotzman, Ocsana Lissovsky, Leva Llc, Xun Wu, Gary Schneider, Terri Fowler, Susanna Anderson (3 pic), Lily Preschool, Milly C (2 pic), Michaeldavid Smith, Nicolas Lebedeff (2 pic), Julie Goll (9 pic), Eric Yerby (9 pic), Galina Atencio (2 pic), Mel Boyajian , Joel R Delman (3 pic), Cynhtia Flo and Victor, Charlie De Cali (2 pic), Dr.Anoshkin Alexandr, Kamila Azizova, Suzanne Markoe, Shawn Dedeaux, Jazmin Polanco, Alexandra Arhangelskay, Shanelle Gonzalez, Guillermo Gonzalez (2 pic), Anna Branfman (2 pic), Pat Berger, Margarita Malina (2 pic), Karen Kahn, Alexandr Canovas, Danil Tegay, Marianella Velasco, Natalya Guerrero, Natalia Melnikova, Flowers residence decor, Martha, Carlos C., Mustafina Naila, Florina Flitt, Anthony Rothman, Natalia Krasnova, Miesha Bailey, Maria Hansen, James Budman, Jeanne Goll, Jannet Yerby, Dasha Ladutco, Lory LAGro, Robert Goll, Lenny Jennings, Juan Calle and more …
Aziza decided to open her own International gallery, where she could exhibit her artwork and help emerging and already established, local artists from Los Angeles, and from other cities and countries in organizing exhibitions of their work.
Now her gallery, which was officially opened on August 22, 2021, is located in a beautiful and prestigious area of West Los Angeles next to the Rancho Golf Club. Aziza became a Member of Century City Chamber of Commerce since October 2021. AzziArt Gallery LA represents creativity of local and international artists. In the gallery's collection, acrylic and oil on canvas, modern, contemporary, urban, abstract works, mixed media art, metal artwork, sculptures, and digital art. Every month in the gallery there is a selection of new works for display and exhibitions.
The gallery also offers art classes for children, adults, and for victims of domestic violence and abuse in the Gallery space and at the different venues.
The gallery has an open space for events. Art and dance, Art and music, Art and book, Art and meditation, Art and yoga. There is an opportunity for the artists themselves to work in the gallery and promote their artwork.
Gallery specializes in offering a large selection of cleared original art for rent at every budget. Every artwork is cleared for use in Film and Television.
AzziArt Gallery specializes in high quality, original and affordable contemporary, abstract, photography, metal artwork and sculptures.
The gallery aims to ensure that people enjoy art and have free access for the contemplation of artistic values. The works of Aziza Azizova's and other artists are aimed at showing people how important it is to appreciate our life, the life of each individual, and the life of people in society, to value friendship and love, to be kinder to each other, to the world around us, to be happy and grateful, to enjoy beauties and colors of our life and our world, to understand and appreciate our planet Earth, and everything what we have around us. To make our world kinder, more beautiful, and happier. And be grateful for all the wonders of this world and our vast Universe.
Aziza plans to develop and ennoble Los Angeles which has become her new hometown. Provide educational events, support LA-based artists, support emerging artists, support our multinational country, represents another cultures through art, support Century City arts Council, CC Chamber of Commerce, always unite people together through art and see Happy faces of people from around the World!
I would like to wish you and all people on the planet:
good health, peace in the world, spiritual development, kindness to each other, love for their loved ones and others, to find themselves, to find your purpose, to believe in their strengths and capabilities, to develop their abilities, to work miracles and inspire others to noble actions, live in friendship, enjoy spiritual and material values, more joy and positivity, write and draw, create and dance freely, think and invent, travel and discover, compose and sing, build and explore, play and fantasize, dream... and your life will become magical and bright! (Aziza Azizova)
Milly Charles
I recently saw Aziza Azizova's art exhibit at a local restaurant and was delighted by what I saw. Azizova's talent is apparent throughout the show. The paintings showed great variety. I loved her multi-layered abstract paintings, the rich colors and subtle compositions have distinct moods, seasons and atmospheres. Some have geometrical vision, others are more free flowing and instinctive. One painting has an autumnal palette-rust, gold, brown and black orbs and cubes dance mysteriously together on the canvas. Another painting evokes spring, in dappled greens where light and shadow play along vertical lines. The paintings invite you in, to find the meanings, sensations and impressions – universal, yet personal to each observer.
Nina Volkova
Creative paintings from the artist Aziza have amazing warmth and spontaneity. Impulsiveness and juiciness of her painting manner are precisely aimed at the main concept of the works. In the center of the compositions of man and his interaction with the space of the universe In the concept of magical harmony of whimsical dance in the plexus of human bodies and hands is born a complex and intricate pattern as a symbiosis of cosmic unity and all-pervading Love for all things. Aziza managed to Express her special bright world with minimal means, in which everyone is cozy and warm. Bravo Aziza!
Feedback form
Contact us if you have questions or suggestions.