Aziza Azizova
Gallery Owner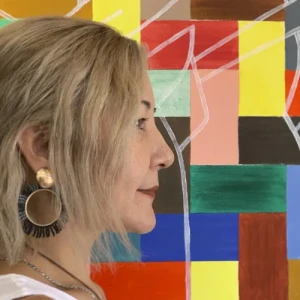 Aziza Azizova an artist, AzziArt Gallery LA owner, art dealer, art curator, event organizer, art teacher, texture art teacher, art exhibitions organizer, member of Century City Arts Council, member of Century City Chamber of Commerce.
Aziza Azizova was born in Taraz, Kazakhstan into a successful and loving family of Uzbek heritage. During her school years, she was always an activist, participated in all social events. She graduated from college with a degree in Economics and Analysis of Economic activity. Then she graduated from the University of Light Manufacturing and Food Industries with a degree in Accounting and Audit. After studies, she worked at her university and currency exchange office, and at the same time received an invitation to the position of Director and Chief Accountant of second tier lending company. To work in this company, she trained as an expert of jewelry appraiser(specialization: gold and diamonds)and subsequently she trained many students after. Her experience helped her company to open eight branches in the city of Taraz. In this company she worked for 12 years before she came to USA. Also, she designed, build, and worked in her own market store at her city.
She raised two wonderful, successful, and highly educated children who now live and work in Russia and in Kazakhstan. For family reasons, she came to Los Angeles. Not knowing a single word in English, she decided to change her life. She began her life in America almost from a blank sheet. For 3 years, she became independent, successful, and began to learn the language.
Then she got married. Family living conditions and misunderstanding on the part of her husband created a toxic and dangerous environment. She was a victim of domestic violence and abuse. She didn't know what to do to survive during that time. To escape from that difficult and dangerous situation in her life, she found an outlet for her feelings in creativity. She began to see the world in abstract shapes and colors. The ocean air brought clarity. The world opened. Her creativity flourished. She became an artist. Art helped her to survive. In order to continue her life in dignity and respect, she ended the marriage after 3 years.
She wanted to express her emotions and feelings in colors. Her love, kindness, and gratitude to the God, to the Universe, to the Mother Earth, to all planets, to the people and to all living things on this earth can be traced in all her creativity. Each brushstroke and painting encourage us to think about being kinder to each other, protecting our Universe, Mother Earth, and our planet. Rejoicing and enjoying its various colors and pristine beauty.
Aziza, a self-taught artist, started painting in 2019. As of this moment, her collection has more than 500 works. She has more then 180 art collectors of her art work. Aziza has been exhibited at Marina Del Ray, Silver Lake, and the Forest and Ocean gallery in Laguna Beach California, West Los Angeles. Almost half of them have been sold. Cultural references to Aziza's Uzbek heritage can be found in her work, often expressed through silhouettes and mosaics that explore an evolving identity. Her trademark is lips, silhouettes, 3D art and mosaic technique. Her work is grounded in introspection an often evokes compassion in viewers.
Aziza describes her process as meditative, sometimes without direction but when her mind and heart work together, the significance of peace unity communicated. The love Aziza feels for her family, and her country, is felt deeply through her paintings. She expresses this fulfillment with every brushstroke, as if she has developed her own universal language.
Aziza has now opened International AzziArt Gallery LA(officially opened August 22, 2021), located in a beautiful, green and vibrant area of West Los Angeles. Her gallery features artwork by several artists from all over the world. She provides art classes, texture art classes, resin art classes, dance classes, language classes for kids, adults, she organizing art exhibitions, different art events, and supports victims of domestic violence and abuse. She knows how art has changed her life from losing heart and becoming stronger and more successful now. She knows how art made her life better, so she uses art to support others, she hopes that it will do the same for them. Her mission is to help women who have experienced this. She also provides free access to Art and understanding of its importance in our daily lives.
Aziza plans to develop and ennoble Los Angeles.
instagram @azzi_art, @azziart.gallery_la
e-mail azziart.galleryla@gmail.com